Mr Pritchard will be on leave from 15/01/21 to 29/01/21.
Dr Wilkinson will be on leave from 07/01/21 to 15/01/21.
The rooms will be closed from Thursday 21/01/21 and will re-open at 09:00 AM on Monday 01/02/21.
PRITCHARD ORTHOPAEDICS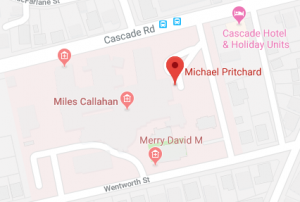 Wellington Grange
Calvary Health Care, St Johns Campus
30 Cascade Road
South Hobart  TAS  7004
p: 03 6223 7122
e: admin@pritchardorthopaedics.com.au
We are located in the grounds of St Johns Hospital off Cascade Road.  Wellington Grange is a two storey sandstone building, to the left of the main hospital entrance.
Parking is available in the main hospital car park.
Contact Us via Email
Please do not provide specific medical information via this form.